Welcome
Online orders: We are taking a little break from online sales due to the volume of work in our shop in Kinsale. Please contact us if you are interested in a fine art print from our online shop.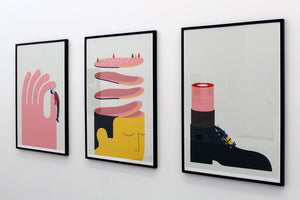 Picture Framing
We love framing… And our mission is to make you love framing too!
Whether you have a contemporary artwork, something more traditional or even an object, our aim is to create a custom picture frame that will enhance your particular piece.
Get your picture framed
Printing
We make exceptional prints; from the quality materials we choose to the attention to detail we give each item.
Choose from a whole range of photo and artist papers; anything from standard photo paper to textured museum quality papers. We will create anything from Giclee prints to limited edition prints.
Get your images printed
Our Shop in Kinsale
6 Market Quay, Kinsale, Co. Cork, P17PW29 Ireland
Mon - Fri 11am - 5.30pm
Saturday 11am - 4.30pm
Testimonials
'I've been working with Stefan & Niamh for the past few years & I can highly recommend their services. Stefan's ability to accurately image capture paintings & reproduce them on his fantastic selection of papers is on par with his professionalism & efficiency. Niamh knocks it out of the park every single time with every bespoke frame she makes.
The dream team in the art supply world!'
— Tony O Connor, The Equine Artist, whitetreestudio.ie
'If you like personalised service with an artistic edge and quality work – this is the place for you! Niamh and Stefan bring an artist's eye to their work, and we highly recommend them.  They provide the best solutions and service in everything they do.'
— Liz Timmons, owner Boathouse Gallery Kinsale, theboathousegallery.ie
'I have been using Studio 1 for framing my original work since moving to Kinsale 6 years ago. The standard of quality is first class, the service is excellent and to top it all they are lovely people. I would highly recommend their services.'
— Philip Gray, Award winning Irish Artist, philipgray.com